Rani gayee sidhaar chita ab uski divya sawaari thi,
mila tej se tej, tej ki woh sachchi adhikaari thi,
abhi umr kul teis ki thi, manuj nahin avtaari thi,
humko jeevit karney aayee ban Swatantrata-naree thi,
dikha gayee path, sikha gayee humko jo seekh sikhani thi,
Bundeley Harbolon key munh hamney suni kahani thi,
Khoob ladi mardani woh to Jhansi wali Rani thi.
Khoob ladi mardani woh to Jhansi wali Rani thi.
I am sure all remember this para from their school books. The famous poem of Rani Laxmi bai. Rani Laxmi bai fought bravely and left us to be a role modal for all the fearless women out there to fight their own battles and be winners.
Struggle fighting for her or others rights in society, fighting for right to girl education, fighting with her own family sometimes, fighting for right to choose life partner, fighting for right to voice her views and opinions..........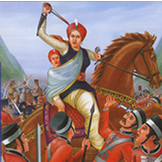 In an article way back in 2002, writer Anita Anand Women's Feature Service and a Development Consultant. Put forward some facts and we should not be so surprised with . (ref. http://indiatogether.org/women/worklife/notallowed.htm#sthash.GJUOEddj.dpuf)
Experts say that a bare three per cent women occupy senior positions in private companies across India. And most of the companies only have five to six per cent women employees. "A study on women graduates of the Indian Institute of Management, Ahmedabad, showed that more than 70 per cent do not pursue a career." why?
Boys are brought up to believe that they can get anything they want and are raised as such. Girls are also told that they can get anything they want, but are raised to have doubts about their ability, to put family first and to subsume their ambitions and dreams in the interest of family and society. They are never told how tough it is to negotiate their way in a world designed and defined by men. And they are not trained for it either.
The corporate world has been, and is one, where men can escape away from home and family. Men made the rules, and when women come into this world, they were not sure how to conduct themselves. In the Indian context, men learn to see women as mothers, sisters, wives and daughters. The idea of women as colleagues and as equals is very new and quite intimidating. Women too, coming into the corporate world, are awed by its norms. Their socialisation has been about home and family. Study and work outside the home are all short-term activities, in preparation for the homemaker role. Also sometimes men are not keeping women away from corporate houses because they don't like them. Men are more comfortable dealing with men, just as women are more comfortable dealing with women.
Both men and women bring valuable and different experiences, skills and expertise to the workplace. By creating an environment that is less hospitable to women, men deprive themselves of a challenge to work with women. Women in turn are cheated out of the opportunity to use their education and training to make a contribution to society.
Well, now we are in 2016, things have not been hunky dory though but yes it has changed quite a bit and the % cent of women in higher positions has become better.
The newer generation women across the world have overcome negative notions and have proved themselves beyond doubt in all spheres of life including the most intricate and cumbersome world of entrepreneurship.
We have more amount of women who have the 3C "Creative, confident and connected", who believe in themselves and have enormous fire in their bellies to take on the best in the business and beat their male counter parts at their own game.

The rise of women in technology is a much discussed, contested, and pondered upon subject across every industry today. No matter which side of the debate you are on, there is no denying the reports that women are now at least the most important demographic in tech.
A section of corporate India is consciously choosing gender-sensitive policies such as flexible hours and creche services for working mothers. But, there are also companies where women still have to face discrimination and harassment.
"The challenges"
Where the inequality can be seen as you progress in your education and career. "In school, there were an equal number of males and females, but as it advances, the ratio of girls steadily declined," being one of the reasons is that the support for women keeps decreasing as they progress. Manisha says, who otherwise grew up in a very supportive family, the challenges have taken several big and small forms. The first was being termed the 'son of the house'. Says the fiery feminist, "I found it odd because I didn't understand why I had to be tagged a son in the first place. I could be a woman and still have equal responsibility." She also adds that as a woman, people tend to naturally perceive you as 'bossy'. "When a man commands, he's seen as a leader, but a woman doing the same is seen as 'rude' or 'bossy'. "Hundreds of mothers who were at leadership roles when they had to take maternity leave. The three months then sometimes stretches infinitely because there's no one to take care of the baby. By the time they're ready to get back to work, they don't have skills that are relevant anymore to the industry. In technology, where every day, every month things change.
Women entrepreneurs in India face challenges of cultural bias and lack of public safety, in addition to pressures of balancing work, home and family. They never gave in or gave up, and carried on to build valuable companies while also giving back to society.
India too has its own pool of such bold and fearless women who have made a mark for themselves both within the country as well as overseas.
Their relentless zeal, incessant quench for success and willingness to walk the extra mile have broken all myths about their inborn limitations that were supposed to be major roadblocks on their success expressways.
Here is a brief on top 5 such ladies out of hundreds. I can easily say they are role models and inspiration for evry Indian- both males and females:
1. Indra Nooyi
Born in Chennai, Indra did her Bachelor's in Science from Madras Christian College in 1974 and a Post Graduate Diploma in Management (MBA) from Indian Institute of Management, Calcutta in 1976. She began her career in India. She has been conferred with prestigious Padma Bhushan for her business achivements and being an inspiration to India's corporate leadership.
2. Naina Lal Kidwai
Naina Lal Kidwai,55, is presently the Group General Manager and Country Head of HSBC India. Naina had a Bachelor's degree in Economics from Delhi university and an MBA from Harvard Business school. In fact, Kidwai was the first Indian woman to graduate from Harvard Business School. Kidwai is ald global advisor at Harvard Business School. Indian government conferred Padma Shri award on Naina for her contribution in the field of Trade and Industry.
3. Kiran Mazumdar Shaw
Kiran,59, is the founder Chairman and Managing Director (CMD) of Biocon Limited. Born in Bangalore, Shaw completed her Bachelors in Zoology from Mount Carmel College, Banglore University. She later did her post-graduation in Malting and Brewing from Ballarat College. Melbourne University Kiran received the prestigious Padma Shri (1989) and the Padma Bhushan (2005) form the government of India.
4. Chanda Kochar
Chanda Kochar,51, is currently the MD & CEO of India's largest private bank ICICI Bank. Rajasthan born chanda got Masters Degree in Management Studies from Jamnalal Bajaj Institute of Management Studies, Mumbai. She received the Wockhardt Gold Medal for Excellance in Management Studies as well as the J.N. Bose Gold Medal in Cost Accountancy.
5. Kiran Mazumdar Shaw
Kiran,59, is the founder Chairman and Managing Director (CMD) of Biocon Limited. Born in Bangalore, Shaw completed her Bachelors in Zoology from Mount Carmel College, Banglore University. Kidwai is ald global advisor at Harvard Business School. Indian government conferred Padma Shri award on Naina for her contribution in the field of Trade and Industry.
These women are bound together by their patience and faith towards building a valuable company and their sense of giving back to society.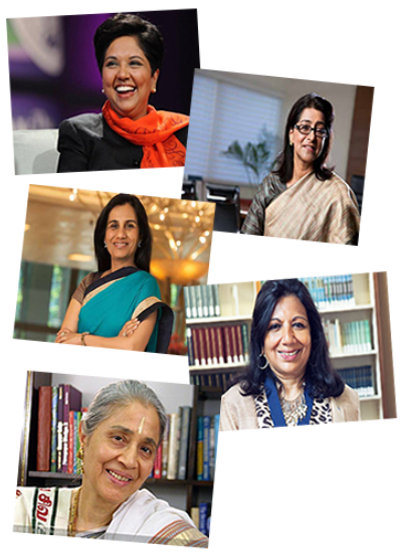 "It all goes away. Eventually, everything goes away"
We all must remember that eventually everything goes away. But we can and should do our best before we go.
Cutting across all generations we know that there is still severe challenges and discrimination that females still face. Women need to be encouraged to grow at all sections be it business, government to the education and social sector every domain of the economy.
We can motivate girls to continue their higher education. We can be role models, be supportive to eachother as mothers, daughters, sisters, grand-daughters. There are lot of ways we can be supportive.
Gram Vikas Trust (GVT), under this project is planning to provide bicycles to identified 50 girls who have dropped out of school before 6th or 8th standard. One of the most common reasons for dropping out is the lack of higher-education school in their village and had to travel long distances (by walk) to nearby village/town where the higher education schools are located. After conducting counselling sessions to motivate them to enroll for a main streaming in nearby schools, the girls are provided with bicycles to facilitate the travel from their home to the school. After the bicycle is provided, GVT follows up with the principal of the school to monitor attendance of the enrolled girls. Based on survey, almost 100% of girls supported under this GVT bicycle supportproject are willing to continue their education till 12th (HSC). Parents are also quite happy as they feel safe sending their daughters on cycles in groups.

This is only one example of it, where we can give our hand in support in whatever way we can. We need to remember we need to create stronger support systems. "Whatever the problem, we need to part of the solution. Don't just sit around raising questions and pointing out obstacles". Thats when the future will be brighter.
Lastly I personally wish to see "In the future, there will be no female leaders. There will just be leaders".
Cheers!
Inspiring quotes on women from her.yourstory
'It makes me happy to set an example for the fellow women of my village and inspire them to take up the traditional cultural heritage as a passion and profession.' - Swarna Chitrakar

'I think, women like me, who haven't really faced discrimination as much, must work harder to speak up for those who are most disadvantaged'. - Sanskriti Jain, NADT

'I think women equality and empowerment will happen only when women start treating each other with respect'. - Swati Vakharia, Women Planet

'If not now, then when, if not us, then who?' - K Sreelakshmi, ChangeTerra

'Never self pity yourself'. - Nirmala Kewlani, Nina Foundation

'Only when women are strong enough to stand for themselves will they become self-reliant and respected by others'. - Tammana Bhati, Hamaara Sahas

'Your talent and the right opportunities open the first few doors but your attitude opens the rest'. - Sneh Sharma, Ittisa

'Respect every man but let no man disrespect you'. - Payal Agarwal, Romharsh Hospitality Group

'Leave the world in a better place than you found it'. - Vanita Shastri, Ashoka University